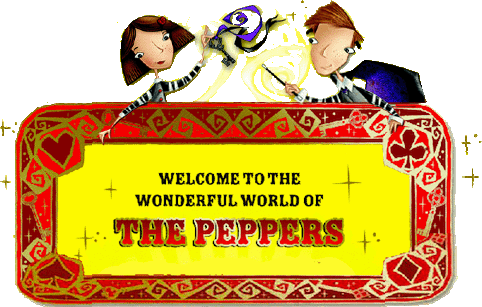 1. This is all about The Magical Peppers, a sparkling new series for kids about magic, mayhem and other things beginning with M.  
For ages 8-12 years, the book is about twins Esme and Monty Pepper, who are spending the summer holidays with their bumbling Uncle Potty, an enthusiastic member of the International Magic Guys magic club. But when the club is threatened with closure who will try to save it…? The Pepper twins.
The book includes real magic tricks and tips which I have personally tested, and which you can try at home – hours of fun! Surprise your parents!
2. Download and print the fantastic Peppers bookmark here.
3. Have a look at the Peppers on Good Reads, if you like.
4. Order The Peppers and the International Magic Guys from Amazon if you're feeling like it. Or go to hive.co.uk or your local bookshop. There are three in the series, go wild!
5. Here is the Magical Peppers cast of characters for the Island of Invention – the Troupe.
6. Here are some Not Very Frequently Asked Questions from Siân.
7. For schools and eventish persons – click here for details for online Author Visits at Authors Aloud. All the facts are there.